CP010ESE IMONS Fully Automatic Portable Espresso Machine CAN HEAT WATER Italian Coffee Maker For Ground Coffee, 12V Rechargeable, Cordless Use, Self Clean For Indoor and Outdoor Car Camping Hiking
product details
Company Introduction
FAQ
IMONS Fully Automatic Portable Espresso Machine CAN HEAT WATER Italian Coffee Maker For Ground Coffee, 12V Rechargeable, Cordless Use, Self Clean For Indoor and Outdoor Car Camping Hiking Fishing
Portable Espresso machine that boils water operated by rechargeable Li-battery 3x2600mah water be heated over 90 degrees C. Automatically make coffee drip into drinking cup

For Outdoor compact and light-weighted design place it in your bag can use 12v 7A car cable either to charge or to make coffee.

18 Bar Max Automatic pump and heater to brew premium espresso with rich and smooth Crema use own ground coffee.

For indoor by 12V 2A wall adapter to charge 2 hours to full cordless use one button operation with self clean function.
Dimension: 77.2x82.3x252mm

Pressure Max: 18 bars

Power: 12v/56w

Capacity: 50ml

Battery: 28.47WH

Heat Time: 8-10mins

Charge Time: 2.5h

Heat Water Temp.: 90-93 ℃
Make yourself an espresso with only 3 steps.
1. Put ground coffee into the filter
2. Pour water to max level mark 50ml
3. Press button(boil water 5s, cold water 2s)
Automatically pump and enjoy your espresso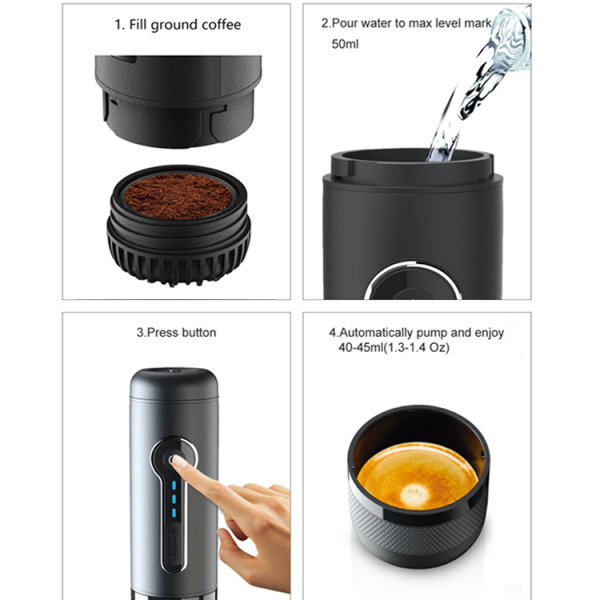 With it's 18 bar pump our espresso machine is as powerful as desk espresso machine and can heat water to 92℃ for an high-end coffee. It also incorporate a self cleaning function. All you have to do is clean the drinking cup.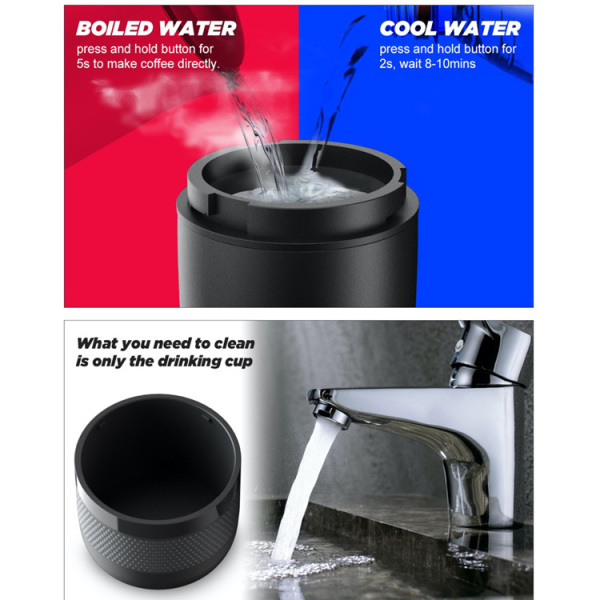 Cordless Use And Rechargeable
Cordless with a 3*2600mah rechargeable battery, it is fully automatic. Unlike some portable espresso machine, you don't need to plug the charging cable on a sector in order for the machine to function.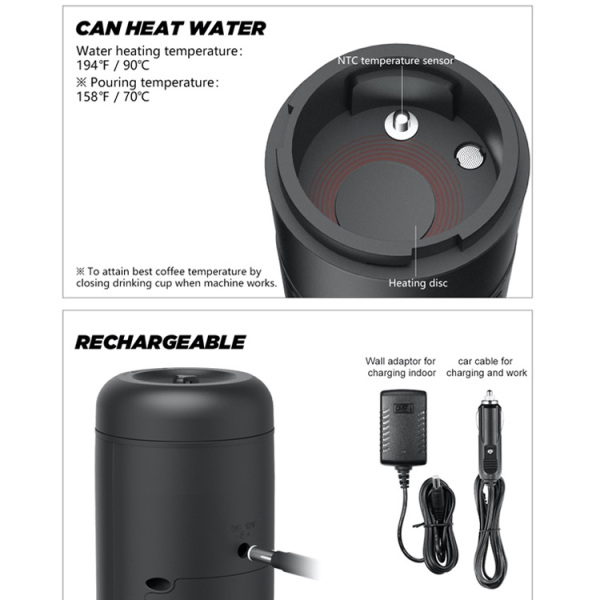 Enjoy Your Espresso Anytime Anywhere
Our espresso machine is compact and lightweight. Associated with it's water heating functionnality, you can take it with you anywhere you go.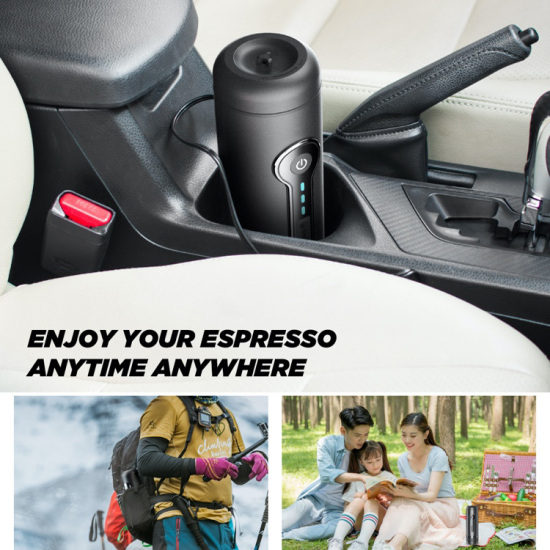 Your Portable Coffee Shop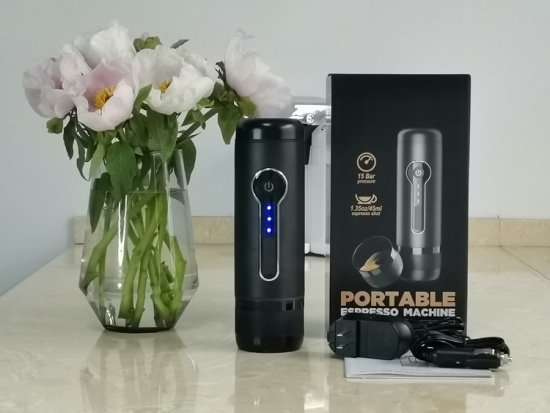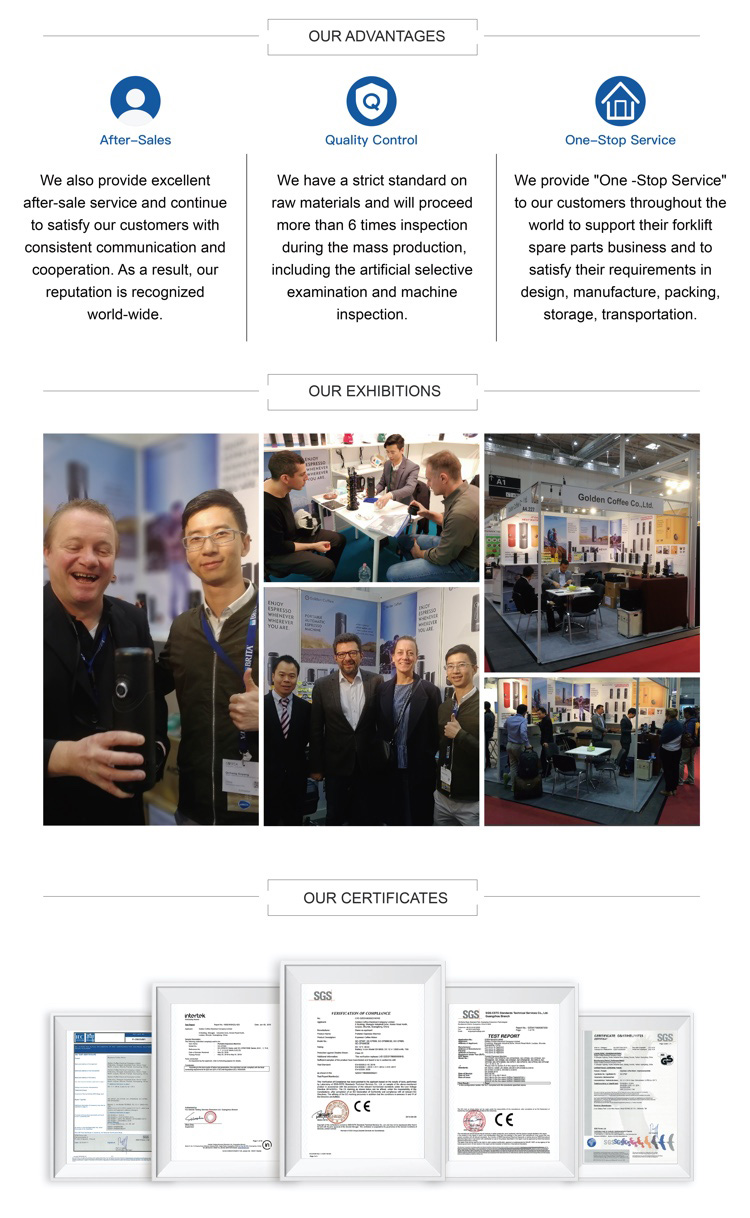 1. What is your MOQ ? Is sample order available ?
A: The MOQ is 200pc. we accept sample order but price is different according to quantities. One sample fee will be returned if customer place bulky orders.
2. Can you offer OEM service ?
A: Yes, we can do OEM.
3. We want to use our LOGO, is that fine ?
A: Absolutely, plastic injection permanent LOGO, gift box and carton design are all in your preference. This MOQ is 500 pcs
4. How is Delivery time ?
A: 25~30 days after design confirmation and receipt of deposit.
5. What about payment terms ?
A: 30% TT deposit + 70% TT before loading.
B: sample fee paid before proceed sending.
6. How to charge the machine?
Battery box is inside the machine, please connect battery box to machine by its internal plug
Use wall charger to charge battery to full before your first use. Allow 2.5 hours.
You can press machine control button once to check battery level.
A fully charged battery can make three cups of espresso with cool water (25℃); Or to make 200 cups of espresso by pressing 5s direct mode with boiled water
Note: You can also use the 12v Car Charger to either charge the battery or to make coffee.
IMPORTANT-WALL CHARGER IS ONLY FOR CHARGING, WHEN YOU USE THE MACHINE, PLEASE UNPLUG THE WALL CHARGER.
7. How to clean?
ONLY wash the Drinking Cup, Capsule Cap.
Machine has its internal self-cleaning function: fill water and press button for 5 seconds without capsule.
IMPORTANT-DO NOT WASH MAIN BODY OF MACHINE; DO NOT IMMERSE MACHINE TO ANY LIQUID. THIS WILL LEAD TO MACHINE MALFUNCTION.WHEN MACHINE IN USE OR HAVING THE SELF-CLEAN FUNCTION, DO NOT PLACE IT UPSIDE DOWN.
8. What About the Water and Coffee Temperature?
Machine use precise NTC sensor to control water temperature to 90℃ in heating function, coffee temperature over 75℃-80℃
Do not use ICE water for heating, room temperature water or boiled water recommended.
No need to open drinking cup during machine works. Opening the cup will lead to lower coffee temperature.
9. How much is the volume of an cup of Espresso?
Espresso volume is always around 40-45ml per cup.
10. How to clear the limescale?
Always use pure water or distilled water to fill into water tank.
Use wet cloth to remove limescale in water tank.
Feedback form contact with us
Related Product