DP010 IMONS Mini 4-In-1 Quick Hot Espresso Machine, 19 bars Pressure,3 Exchangeable Cartridges for Nespresso Capsule, Dolce Gusto Capsule, Ground coffee, Tea, Suit for Travel, Home and Office
IMONS Mini 4-In-1 Quick Hot Espresso Machine, 19 bars Pressure,3 Exchangeable Cartridges for Nespresso Capsule, Dolce Gusto Capsule, Ground coffee, Tea, Suit for Travel, Home and Office
We all know that a good coffee really gets the day started and going. But a good coffee doesn't come easy. Of course you can buy one but often times the line's just too long. You can make one of your own but you don't want the trouble, and most likely you don't have the time and skillset.
IMONS coffee maker gets you covered. It brews an esppresso in as little as 3 seconds and it's as easy as pushing a button. No more rushing in the morning.
3S INSTANT HEATING
When IMONS starts working, water pumped into the machine is subjected to 19 bars high pressure and is heated to 94℃ instantly in the 1500w big power system, which is in the form of a 1.8m/6.0ft-long 304 stainless steel helical channel.
This hot water goes right into the cartridge, where the pod/ground coffee/tea is housed. Together with the 19bar high pressure, the essence of coffee is thoroughly extracted and a rich & smooth Italian espresso comes in about 3s, saving you precious time on week day mornings.
ENERGY SAVING & ECO FRIENDLY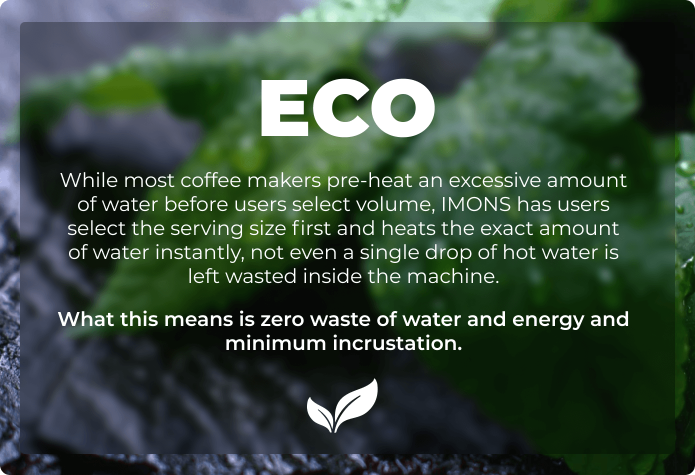 While most coffee makers pre-heat an excessive amount of water before users select volume, IMONS has users select the serving size first and heats the exact amount of water instantly, not even a single drop of hot water is left wasted inside the machine. What this means is zero waste of water and energy and minimum incrustation.
IMONS coffeemaker comes with 3 easily removable cartridges, one for Nespresso pods, one for Dolce Gusto pods, as well as one for ground coffee and tea. It is the one ultimate coffee machine you'll ever need for any homebrew.
SIMPLE OPERATION
Fill the reservoir with water, load pod/ground coffee, switch IMONS on and push one button to choose your cup size. Just as simple as that.
a. Easy to fill water
b. One-key operation
c. The cartridge is easy to disassemble and install
PRECISE TEMPERATURE CONTROL
With a high precision NTC temperature sensor, IMONS meticulously controls the brewing temperature with consistency. Quickly heated up in the helical channel, water goes into the cartridge will always be 94℃ and the coffee comes out of IMONS is around 80℃ every time, making sure your every sip is at its best.
EXCHANGEABLE CARTRIDGES
The market is filled with all sorts of coffee makers, but never one is compatible with both Nespresso and Dolce & Gusto pods as well as ground coffee and tea like IMONS. IMONS coffeemaker's versatility comes from the exchangeable cartridges, which are of food-grade BPA free safe materials and are air tight, even under 19 bars of pressure.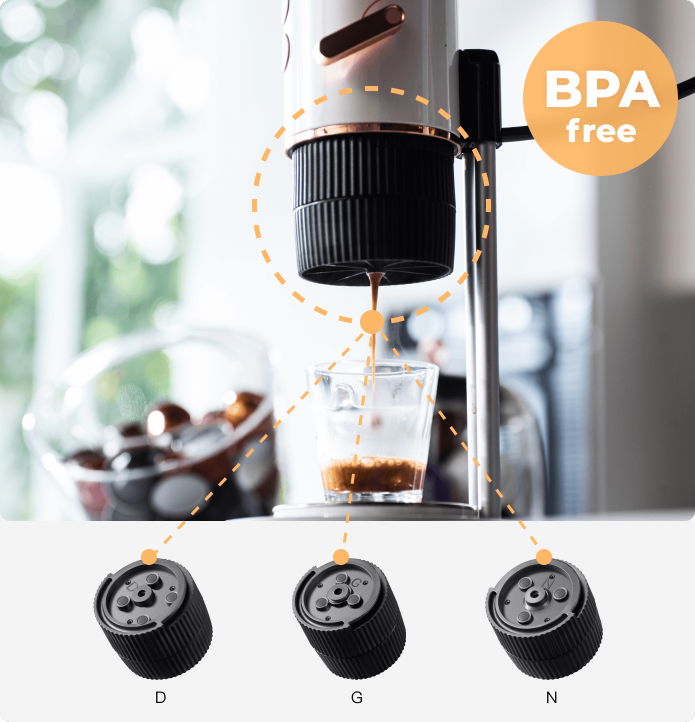 AI SMART CONTROL
Both the best and the worst coffee is handmade. The difference lies in people. While a good barista with hard earned expertise makes the best coffee, average ordinary people are prone to errors. IMONS coffee maker inherits the expertise of top notch baristas all over the world and takes out human errors and uncertainties. The intelligent algorithm of IMONS doesn't only controls the water temperature with precision, but also adjusts brewing pressure, time length and water amount persuant to capsule types, grain sizes of coffee grind etc.
SAVE MONEY, SAVE THE PLANET
According to FoodPrint, approximately 16 BILLION single-use coffee cups are disposed every year, along with the lids, sleeves, straws and stir sticks. These are often made with hard-to-recycle materials like Styrofoam, polyethylene or polypropylene. Studies show that only 0.25% of cups are recycled. The rest find their way to landfill and the ocean.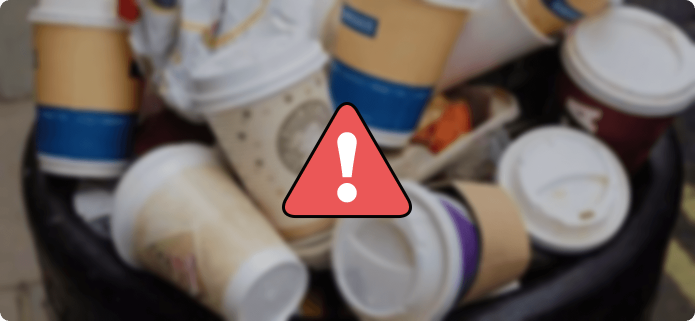 Suppose 1 cup is enough to get you through the day. Over a year, that's enough cups disposed to stack up over twice the height of the Statue of Liberty. Money wise, that's gonna cost around $1100. IMONS coffee maker saves the planet hundreds of disposable cups and you about $1000 a year, while it takes practically no expertise and only seconds to make a barista-quality coffee, faster even than ordering one, let alone the time in line waiting.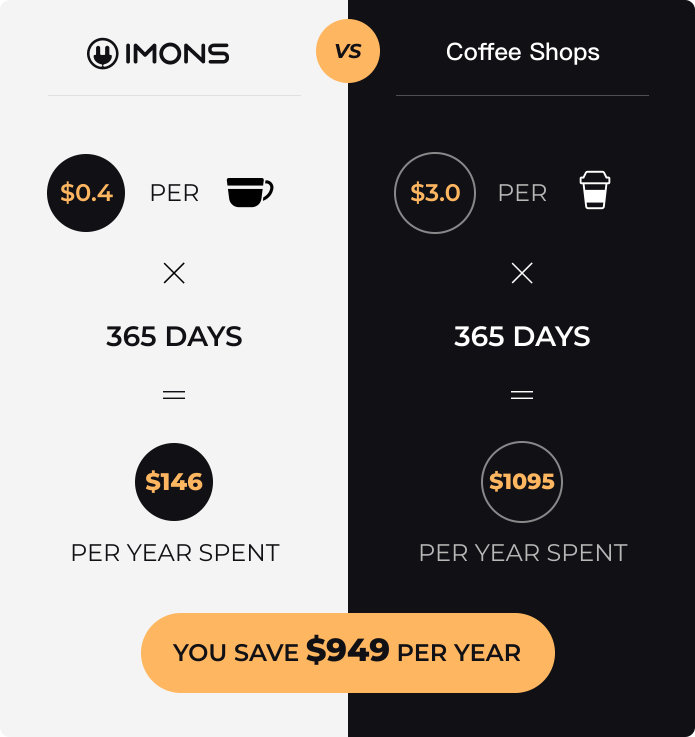 10 OZ. RESERVOIR IN COMPACT BODY
IMONS comes with a water reservoir of 300ml, which is enough to make more than 6 cups of espresso. We designed this reservoir removable so as to keep the coffee maker compact and small. The 90mm/3.5in wide mouth makes it easy to clean as well.
* Use purified water only for the safety of the machine.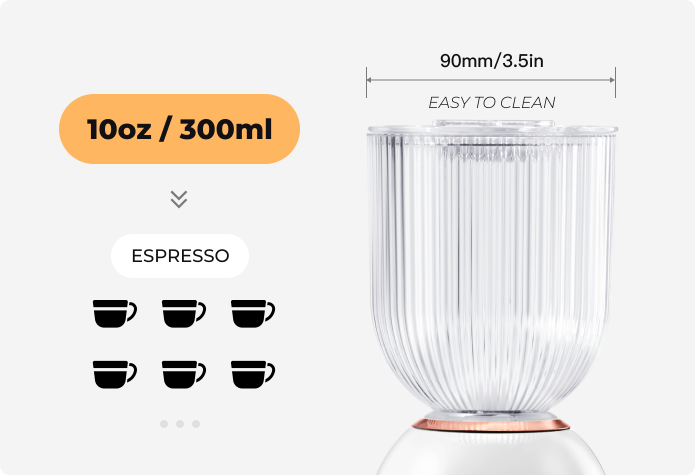 TRAVEL FRIENDLY
Want a sip of coffee with your own twist when you're away from home? Pack IMONS with you. Its water bottle sized body can fit into any suitcase or backpack easily and be carried around effortlessly for a camping/RV trip. The machine comes with a pipe to draw water straight from a bottle.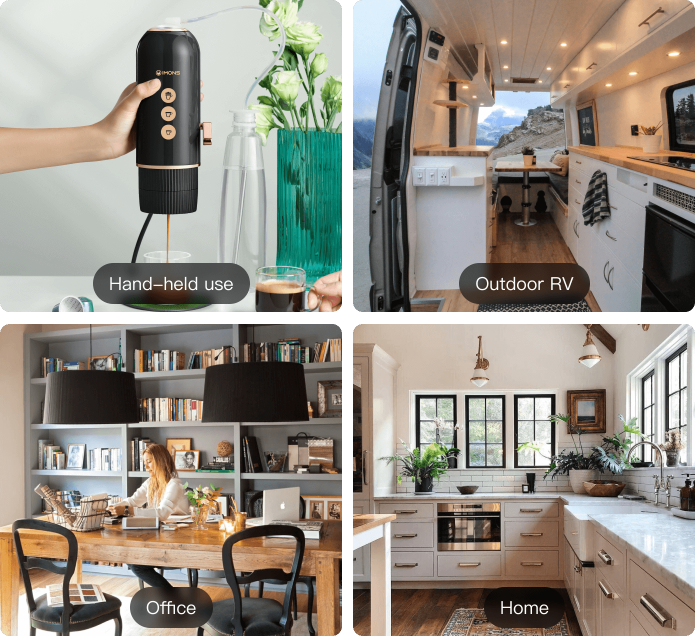 VARIETY OF DRINKS
IMONS empowers creativity. With the premium esspresso it brews, you can create all sorts of coffee drinks, such as latte, cappuccino, macchiato etc., of your own flavor.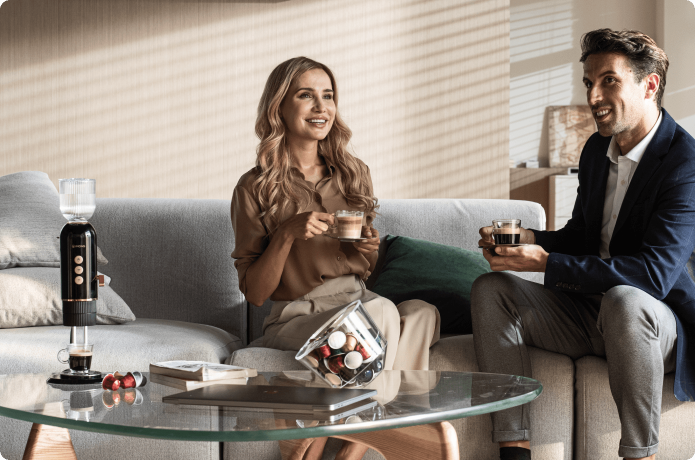 REUSEABLE STAINLESS STEEL FILTER
The cartridge for ground coffee/tea has a built in filter, which is made of food grade 304 stainless steel. This filter is densely hallowed out with very small holes that could produce clean looking coffee, instead of the common cloudy kind. In addition, this reusable filter could save hundreds of disposable paper filters, which is your contribution to environment preservation.
HIGH PRESSURE PUMP
Inside IMONS coffee maker there's a high pressure pump that is designed in house, relentlessly optimized for 3 years and patented of course. It is the essential part that makes IMONS so fast yet compact and quiet at the same time. More importantly it makes sure our coffee maker extracts all the essence of the coffee pods/grind for you to savor.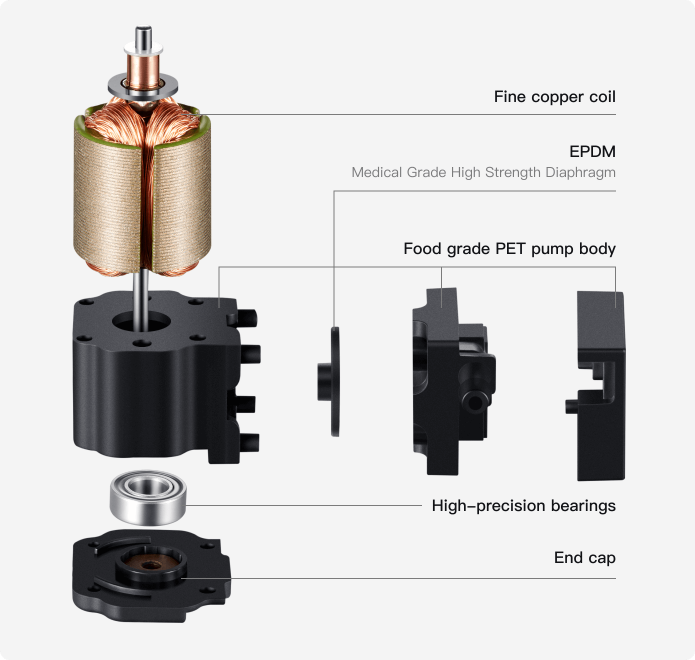 LOW NOISE LEVEL
IMONS coffee maker has multiple shock absorption mechanisms in place to reduce shaking caused by the high pressure when the machine's working, which subsequently means much less noise. You deserve a peaceful environment that gives you a good mood to enjoy a good coffee.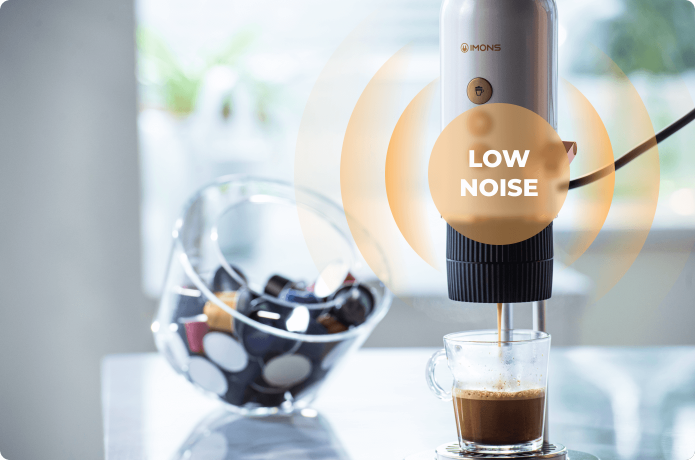 SIMPLE INSTALLATION
IMONS coffee maker comes in a few separate parts, but it's as easy to put together as building Lego blocks.
BRACKET & BASE
IMONS coffee maker's base supports the body of the machine and accommondates your coffee cup when brewing. The hallowed out design is skidproof and leads spilled out water/coffee, if there's any at all, down into the plate, keeping your countertop clean and tidy always.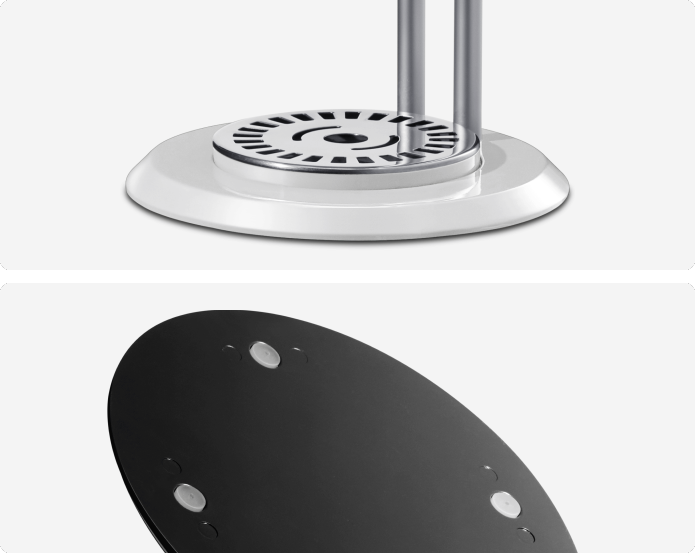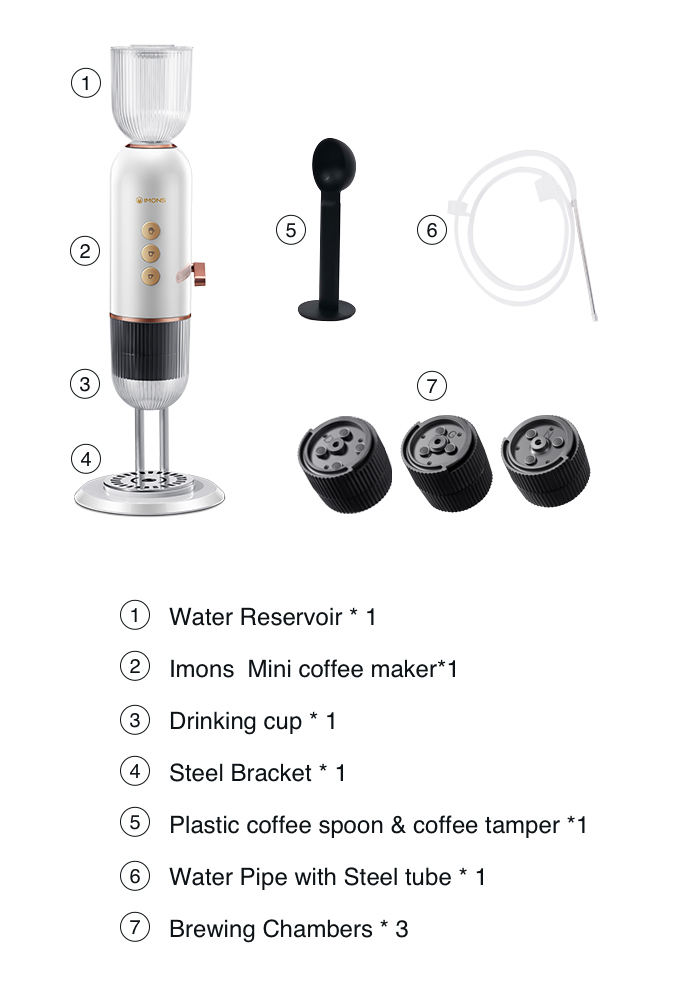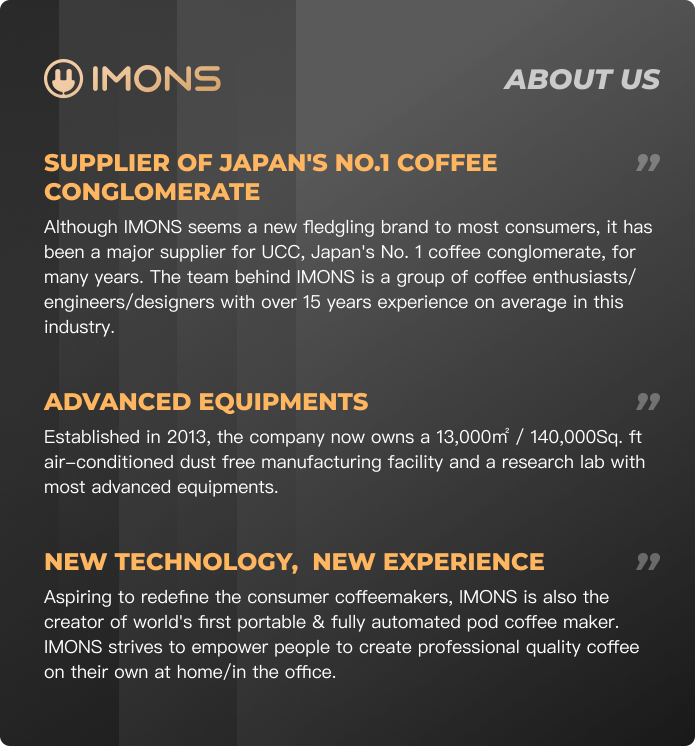 FAQ-FREQUENTLY ASKED QUESTIONS
1.What capsules can be used for this machine?
Please use genuine Dolce Gusto capsules and genuine Nespresso capsules.
2.For ground coffee what coarseness is suitable?
Please have the ground coffee at middle coarseness—according to Nespresso coarseness. Fill ground coffee 12-15G, use tamper to press slightly to flat, very fine or too much coffee might cause machine abnormal
3.What water should we fill into the container?
Please fill pure water into water tank only. Not milk or other liquid.
4.What should I do if I want to clean the internal pipes for my first use or long time no use?
After connected the socket and filled water, please press any control button to release water without extraction chamber for once before your first use or long time no use. Please be careful when hot water comes out. Suggest to use big cup to receive hot water.
5.We notice the brewing chamber in black has lower part and upper part, how we to ensure it is sealed well after we put capsules /ground coffee in ?
a.Please make sure to Screw the upper and lower parts home tightly.
b. Slide the chamber horizontally into the machine, check chamber in firm position. The chamber should be slid to the end of the machine groove.
6. What should I do in case I want to stop the machine during it is working.
a.During the machine working, in case you want to stop it, or notice machine is abnormal (no coffee comes out, leak water etc.), please press control button again to stop it. Do not rotate the On-Off switch lever, because machine still has residual heat and pressure.
b.After Every Use, Please Wait One Minute Before Unlock The Chamber Because The Machine Still Has Residual Heat and Pressure After Use.
Feedback form contact with us